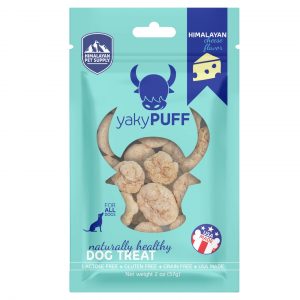 yakyPUFF, let your dog enjoy the guilt free, great tasting, all-natural dog treats. These light and airy puffs are great for all dog ages and sizes; puppies to seniors. They are low in fat and high in protein, making them the perfect training treat or guilt-free snack. yakyPUFF's are lactose, grain and gluten free and easily digestible. Available in 4 delicious flavors; cheese, cheese with real bacon, cheese with real peanut butter and cheese with real chicken.
All natural
Made in the USA
Limited and locally sourced ingredients
Great training treat
Grain, gluten, soy, corn, wheat and lactose free
For Dogs of all ages and sizes
Advice for use
Give as reward or treat
Supervise pets when giving them any treat
Best for dogs over 12 weeks old
Not for human consumption
Chews will last longer if kept in a cool and dry place (do not refrigerate)
Wash hands after handling products with dog drool
Remove treat if potential hazard presents itself.